5

Comments
Published by Jane on Friday, December 05, 2008 at 12:53 PM.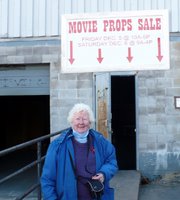 Today was the first of a two day movie prop sale. The movie, The Edge of Darkness, has recently finished filming in Boston. My parents decided to visit the prop sale this morning since my great-grandfather, Maurice Sullivan, will be making an appearance in the movie (we hope).
I have posted on my blog here a few times about Maurice. I even included a photo of him in this post:
Srgt Maurice Sullivan catches his man
. The photo in that post caught the eye of a Hollywood set dresser. I was contacted to see if we would be willing to let the photo be used in the movie as part of the set background. My Mom agreed, and now, some 75 years after his death, my great-grandfather will finally be in the movies!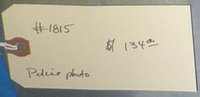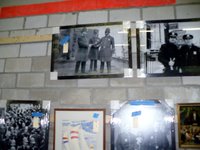 But back to today's sale. There is Mom, Sue Deedy, in front of the door near the loading docks. The sale took place in Chelsea in an old furniture warehouse. My Dad was the photographer on today's expedition. I could not attend since I was working.
They quickly found the enlarged and framed photo of Maurice Sullivan. The shaking hands photo should be seen in a police station hallway (I believe) in the movie. I will have to look closely for it once the picture is released sometime in 2009.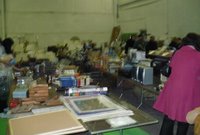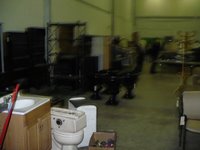 You can click on any image to see larger. The shaking hands photo was priced at $134.00. Mom did not buy it, but she really wanted to! Instead, she purchased some other small items. The prop sale mostly had household goods items. Lots of lamps, books, kitchen ware, furniture - that kind of thing. Stuff you could find at any yard sale.
Well, maybe not any yard sale. Dad made sure to take a photo of the toilet that is for sale (since Mel Gibson is starring in this movie, perhaps someone wants Mel's throne?)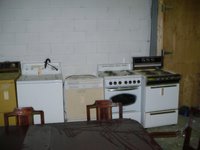 Dad was also amazed to see kitchen appliances for sale - appliances that looked like they are from different eras.
Now we will have to wait until the movie is released and hits the theaters. Everyone be on the lookout for that shaking hands picture!
Update: Looks like the movie is expected to be in theaters June 2009 - at least that is what one of the set people staffing the sale told my Mom when she went BACK today!
Labels: Sullivan