0

Comments
Published by Jane on Saturday, October 04, 2008 at 8:55 PM.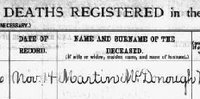 While researching Thomas McDonough's
siblings
, I noticed on Martin McDonough's grave stone a notation about a Martin F. McDonough being just 16 years old when he died (see
photo from grave yard tour
). Sadly, as I research various family members, I have become accustomed to stumbling across death records for very young children. But the death of a sixteen year old? There must be some sort of a story to uncover here.
First I looked up the
death notice
published in the Worcester Evening Post on November 7, 1898. That notice contained the bare facts of the event. The next find (
1898 Worcester Evening Post long obit
)provided many more clues to young Martin's short life.
Worcester Evening Post
November 8, 1898

High Requiem Mass

The Funeral of Martin McDonough This Morning.

The funeral of Martin McDonough, son of Mr. and Mrs. McDonough, of No. 3 Esther street, took place from the parents' residence this morning. A requiem high mass was held at Sacred Heart church. Rev. Wm. Foley offered up the mass. The floral tributes included a pillow and 16 pinks from the Maxwell Football club, a cross marked "Our Son", pillow marked "At Rest" and a bunch of pinks tied with lavender ribbon from his comrades, star marked "Cousin" from Mr. and Mrs. Dominick Sweeney, sixteen pinks tied with white ribbon from Mary and John McDonough, bunch of chrysanthemums tied with white ribbon from Earle W. Ide and Chas. A. Church, pinks tied with white ribbon from Margaret Mullaney, sixteen white roses tied with ribbon from Susan Conlin and bouquets from P.T. and Catharine J. McDonough. The pallbearers were: John J. Brennan, Patrick J. Mullaney, John Sweeney, Martin Murphy, Patrick T. McDonough and Jas. F. Thompson. Services at the grave were read by Rev. Bernard Conaty. The burial mass was at St. John's cemetery.
We now know Martin Jr. lived at 3 Esther Street, was a member of the Maxwell Football Club, and he received many floral tributes from friends and family. It appears his cousins, Patrick and Katherine McDonough attended the service, with Patrick serving as a pall bearer. Patrick would have been about 18 years old while Katherine was 16.
To find out what caused Martin's death, I searched for his death record and found it
here
. It reveals that young Martin died of pneumonia. It also reveals that Martin was employed as a wireworker. I would have expected him to still be a student.
Labels: McDonough