2

Comments
Published by Jane on Sunday, April 29, 2007 at 5:08 PM.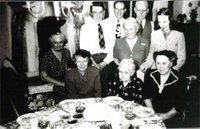 Katie McCarthy Dolan was kind enough to send me this undated photo of a family gathering (you can click on photo to see larger). Below I copied the photo and numbered the individuals. She identified each of the people pictured. You can see that #9, Katie's grandmother, is Louise McDonough McCarthy - so Katie's grandmother was my grandmother's older sister!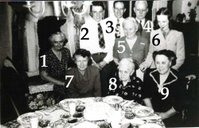 1. Josephine (Johanna) McCarthy
2. Granger (Ed ?)
3. Jack Bean
4. Michael Aloysius McCarthy
5. Nona McCarthy
6. Marie McCarthy Halpin
7. Peg Lawler
8. Johanna Healy
9. Louise McDonough McCarthy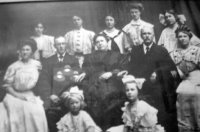 Now, we are all familiar with the McDonough clan family photo. But I have a problem. I don't know how to match up all the faces with the names. Specifically, I don't know which of the young McDonough girls is Katie's grandmother Louise. If you can fill in the blanks please do so in the comments. Here is the numbered group photo with the people I am 100% sure of identified: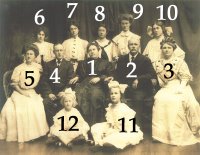 1. Mary Loftus McDonough
2. Thomas McDonough
3.
Mary McDonough O'Leary
4. Patrick McDonough
5.
Katherine McDonough Kennedy
6.
Ann McDonough Fay
7.
Margaret McDonough Barry
8.
Agnes McDonough Thompson
9.
Sarah McDonough Ahern
10.
Louise McDonough McCarthy
11. Eva McDonough Burgess
12. Grace McDonough Deedy
So I need to know which numbers to put beside the following girls names: Katherine McDonough Kennedy, Sara McDonough Ahern, Margaret McDonough Barry, Ann McDonough Fay, Louise McDonough McCarthy, and Agnes McDonough Thompson. If you can help please leave a comment. Thank you!
Update:
Thanks to Mary Kennedy Dean we now have the missing numbers filled in. Thanks Mary!
Labels: McDonough
0

Comments
Published by Jane on Sunday, April 22, 2007 at 3:01 PM.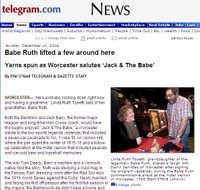 My father attended the Hotel Vernon celebration for Jack Barry and Babe Ruth in Worcester back in December. I did mention it in the post:
Jack Barry Celebration in Worcester!
but did not follow-up on the press from the visit. Before the
story
is archived from the Worcester Telegram & Gazette website, I thought I would post it here.
My father who is quoted in the article would like me to clarify that he is not a "Vermont Native" - he was born in Worcester and grew up there - he just happens to live in Vermont now.
Babe Ruth lifted a few around hereYarns spun as Worcester salutes 'Jack & The Babe'
By Phil O'Neill TELEGRAM & GAZETTE STAFF
WORCESTER
— "He's probably looking down right now and having a great time," Linda Ruth Tosetti said of her grandfather, Babe Ruth.
Both the Bambino and Jack Barry, the former major leaguer and long-time Holy Cross coach, would have thoroughly enjoyed "Jack & The Babe," a Worcester salute to the two sports legends yesterday that included a seven-car cavalcade to No. 1 View St. on Vernon Hill, where the pair spent the winter of 1915-16 and a follow-up celebration at the Hotel Vernon that included peanuts and ice-cold beer and baseball memories.
The way Tom Deedy, Barry's nephew and a Vermont native, told the story, Ruth was studying a road map in the Fenway Park dressing room after the Red Sox won the 1915 World Series against the Cubs. Newly married and facing his first off-season after his first full season in the majors, the Bambino-to-be didn't have a home and was thinking about driving back to his native Baltimore when Barry, a veteran Red Sox infielder, suggested the couple jump on the train with him and stay a week at his home in Worcester while firming up their plans.
The week turned into most of the winter, and the Babe, who liked a good time, reportedly spent considerable time a half-mile down Vernon Street at what is often referred to as the "Kelley Square Yacht Club," which in those days included the Hotel Vernon and McGady's Tavern.
Bob Largess, who bought the Hotel Vernon in January, and Allie Bombz, who is filming a documentary about the history of the famous watering hole — which includes a still-intact speak-easy from Prohibition days in the cellar — came up with the idea for yesterday's tribute as a promotion tied in with the burgeoning Blackstone Canal revival in the area. They held a Prohibition-Repeal party Friday night and recently sponsored a tribute to the Worcester serviceman who died in World War I for whom Kelley Square is named.
About 200 people showed up to celebrate the legacy of Barry and Ruth in Worcester.
Tosetti, who lives in Durham, Conn., was the main attraction, signing for a line of autograph seekers before the speaking program. She said she never met her grandfather, who died in 1948. "I'm popular now, but he's the one who hit the balls. That's what my mother used to say, too," she said.
Tosetti said her mother, Dorothy, was often referred to as adopted, but that wasn't the case. "My grandfather wasn't married to my grandmother, but I'm a direct blood descendent. Her name was Eironi."
The Babe's granddaughter said she was excited at being invited yesterday. "Worcester is beautiful, old but beautiful." Of the Babe she said, "Yes, he partied hard, and I'm sure he did at the Vernon. But he always gave back. He never refused an autograph. He liked to laugh and have a good time. He's probably looking down right now and having a great time."
Bill Jenkinson, a baseball historian who is writing a book titled, "
The Year Babe Ruth Hit 104 Home Runs
," told the festive crowd the book is predicated on Ruth playing 162 games in today's stadiums and under today's rules. "I make a very, very solid case he could hit over 100 home runs," he said. "The Babe hit the ball harder and farther than anyone. I've studied them all and none comes close."
Art Johnson, a Holden resident who pitched for the Boston Braves from 1940 to 1942 and was another head table guest, said he was scouted by the Braves as a 15-year-old in high school in his native Winchester and was asked to pitch batting practice at Braves Field in 1935. Ruth was winding up his career with the Braves that year. "Babe hit one off me over the Jury Box in right field. It was the longest home run I ever saw."
Wilbur "Bud" Valiquette had another Ruth yarn. The Big Bam supposedly called his famous home run shot in the 1932 World Series against the Cubs, but the Hope Avenue resident said he did it again in a 1934 exhibition game against Holy Cross at Fitton Field. "I was only 7 years old, but I remember him holding up his arms, pointing out to center field and then hitting a home run out there," Valiquette said. "Then he trotted over to the band, grabbed a horn and played a tune, and everyone clapped."
Tom Rooney, a former Leicester bank president and local historian, told of Barry's long and illustrious career, from captain and shortstop at Holy Cross, to a member of Connie Mack's $100,000 Infield with the Philadelphia A's, through his days at second base with the Red Sox, which he managed in 1917, and then on to his longtime tenure coaching baseball at Holy Cross, where he won a national championship in 1952.
Darryl Servideo of Worcester said he enjoyed talking with Tosetti, who is a big Red Sox fan. "She said she met Johnny Damon and told him he was going through the same thing Babe Ruth did, switching from the Red Sox to the Yankees," Servideo said.
Rooney told of Barry building a home in Shrewsbury, while Deedy recalled the knee-to-ankle spike wound his uncle carried courtesy of Ty Cobb.
Three local antique car societies contributed impressive autos to the cavalcade up Vernon Street to No. 1 View where Ruth stayed in Barry's second-floor apartment. Members of the Deedy, McDonough and Trainor families who once lived in the three-decker turned up for the occasion. Ruth returned to Worcester in later years to see Barry, who owned a car dealership on Pleasant Street, and there are stories of the Bambino ice-skating and enjoying himself in the city.
Largess and Bombz both grew up on the city's West Side. Largess, who also owns McGovern's Package Store nearby, is involved in the Blackstone Canal Task Force in that section of the city. Bombz, a composer and band member who has worked in New York, Los Angeles and Brazil, said he walked into the Hotel Vernon in August, became fascinated with the history of the building and neighborhood and decided to do a documentary on it.
"I think it's important that we take pride in Worcester and celebrate its history," he said.
That got off to a good start yesterday.
Labels: Jack_Barry
0

Comments
Published by Jane on Sunday, April 08, 2007 at 8:08 PM.
Conal has been trolling the internet for Jack Barry images. Don't forget - he will be
inducted into the College Baseball Hall of Fame
this summer (July 4th weekend) in Texas!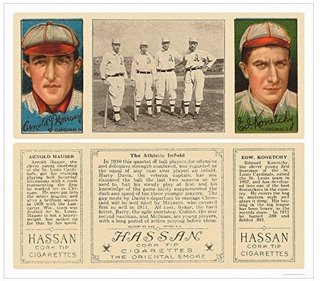 Jack Barry is one of the men in the center photo. This photo shows the four men who made up the famous $100,000 infield.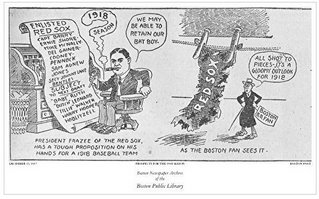 This cartoon which appeared in the Dec. 15, 1917 Boston Post newspaper notes how many Boston Red Sox players had enlisted to fight in WWI - which made it doubtful the 1918 baseball season would be a good one for Red Sox Nation.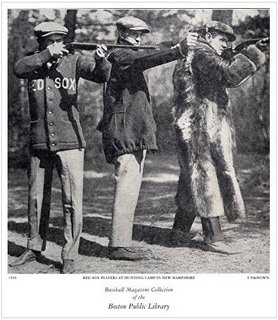 We believe Jack Barry is pictured here with Babe Ruth hunting in New Hampshire in 1916.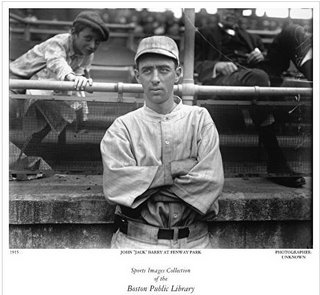 Here is a 1915 photo of Jack Barry in Fenway park.
-
How is Jack Barry related to the Deedy's?
-
Lefty Grove visits Wabash Ave
Labels: Jack_Barry