0

Comments
Published by Jane on Friday, February 13, 2009 at 5:14 PM.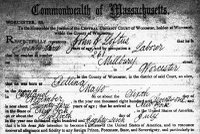 My Great-Grandmother, Mary Loftus McDonough, had a brother named John Loftus who immigrated just as she did to Worcester, Massachusetts. Previously, I had found Mary's younger brother's
naturalization document
which established that he was born in Bradford, Yorkshire County, England. Mary was also born in England, likely also in Bradford. But Mary's parents are not originally from England. They were both born in Ireland. Where in Ireland has been the question.
A
John J. Loftus was naturalized in 1894 in Worcester, MA
. His paperwork reads as follows:
Commonwealth of Massachusetts

Worcester, SS.

To the honorable the Justice of the Central District Court of Worcester, holden at Worcester, within the County of Worcester, Respectfully represents

John J. Loftus

that he is

Twenty-three years of age

, and by occupation a

Laborer

that he resides at number

261 on Millbury street, in Worcester

in the County of Worcester, in the district of said Court, an alien that he was born at

Bellina in the County of Mayo in Ireland

on or about the

sixth day of November, in the year one thousand eight hundred and seventy-one

, and is now about Twenty-three years of age; that he arrived at

New York

in the state of New York, in the United States of America on or about the Twelveth day of

July

in the year

one thousand eight hundred and eighty-seven

that it is his bona fide intention to become a Citizen of the United States of America, and to renounce forever all allegiance and fidelity to any foreign Prince, Potentate, State, and Sovereignty and particularly to Victoria, Queen of the United Kingdom of Great Britain and Ireland, whose subject he has heretofore been; that such has been his bona fide intention for two years last past and that he was a minor at the time he arrived in the United States and resided therein three years next preceeding his arrival at the age of twenty-one years. And that he has resided in the United States five years last past.

Signed by John J. Loftus on October 17, 1894
Could this be Mary's brother John Loftus? If it is, then we finally know where the family originated in Ireland - Ballina, County Mayo, Ireland.
Labels: Loftus
1

Comments
Published by Jane on Thursday, February 12, 2009 at 6:05 PM.
Every so often an email is sent to me after someone comes across this blog. Usually I can figure out if the person contacting me is a relation or not. But this latest query has me a bit befuddled. While Deedy is a very uncommon last name, it is not 100% unique to my family. The following email arrived today from England:
Hello

I love your website, so much work has gone in to it, it is a pleasure to see.

My paternal grandmother was Norah/Noreen Deedy from Dingle in County Kerry Ireland. She was one of four daughters of ? Deedy, a fisherman from Dingle. My grandmother emigrated to Boston and worked there in service to a wealthy Jewish family for something like 12 years, she married Gerald/Gerry Sheehan in Boston and returned to Ireland in the early/mid 1930s, she never returned to Boston. She lived the rest of her life in Coombaha, Co Kerry, Ireland.

If you have any knowledge of my Grandmother or her relatives I would love to find out more about her.

Kind regards

R. G.
Oxford UK
If any of the above sounds familiar or if you are researching any Deedy's from Dingle please let me know and I will connect you with R.G. from Oxford to discuss...
Labels: Unknown_Deedys