0

Comments
Published by Jane on Sunday, October 19, 2008 at 2:34 PM.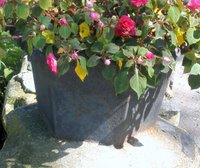 I have posted
before
about the L.W. Pond company and how that Worcester business played an important role in M. Thomas O'Leary's life and for the McDonough family.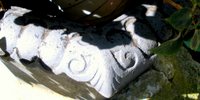 Recently, Mary Kennedy Dean sent me some photos of large cast iron planters manufactured at the L. W. Pond foundry by Katherine McDonough Kennedy for her daughter, MaryJane Kennedy Gaitings' driveway. This reminded me to look again for information about the L. W. Pond company. What I found was the following interesting tale about the founder of the company - one Lucius Wilson Pond: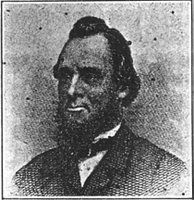 Lucius W. Pond was born in April 1826 in Worcester and worked as an apprentice for Samuel Flagg - part of a 10 man shop turning out quality tools. After only three years, L.W. Pond rose from apprentice to foreman and then partner. In 1853 Samuel Flagg retired and sold his share in the business. By 1854 Pond bought out the other remaining partners and built a new works on the Flagg site. The new works, covering at least 7 acres had scarcely been completed before it was destroyed by fire. Despite heavy losses by the failure of insurance companies, L.W. Pond was able to pay all creditors in full and rebuild. This action left the company was a remarkable credit throughout the business world. By 1875 the works employed 1,000 workers in Worcester.
The Pond works gained a reputation for producing as fine a quality of tools as any in the country as well as for innovating ingenious tools. To expand the reputation of his company and attract more business, Mr. Pond opened a large store in New York City
"where he placed a good assortment of his iron and wood-working machinery. This was the only wareroom in the city where such machinery could be seen in motion and this fact sold quantities of his work."
Beyond being a successful and shrewd businessman, L.W. Pond took an interest in public affairs, serving several years in the Massachusetts Senate. He was also very active in his church and was a well known and well respected man around Worcester and beyond. All of this made the following events in 1875 all the more scandalous:
December 26, 1882
The New York Times
Lucius W. Pond Pardoned
Liberated after serving seven years
The irregularities of Mr. Pond were brought to light by his sudden disappearance. It was announced early in October that he had disappeared under mysterious circumstances, and it was reported that a man, supposed to be he, was last seen in the state-room of the steamer Providence, of the Fall River Line on her trip to New-York, where, on the morning of her arrival, a coat, hat, and pair of shoes were found, which were afterward identified as his. The theory that he had been "foully dealt with" was advanced, and found credence. It was several days after before his forgeries were detected. It was found that the faces of notes had been removed and rewritten with larger amounts than the original, while the endorsements were genuine. The original notes were generally made payable at Mr. Pond's office, so that when they were paid they remained in his possession without any marks of cancellation, or anything to show that they were dead paper. It was then a tolerably easy matter to remove the writing on the face with an acid and write in fresh dates and amounts and add Mr. Pond's own signature, while the endorsements were allowed to remain. The arrest of Pond was made in San Francisco [just before he was boarding a ship set to sail for Australia.]
You can click on the title to read the full article, but it appears Lucius passed about $40,000 in bad checks in a six month period in 1875. Knowing that his forgeries were about to be detected, he faked his own death, fled to the West Coast, and attempted to flee the country. The victims of his forgeries ranged from friends, family, prominent business men, to widows, orphans, and his own church. However, in the end, the very friends he defrauded helped him obtain early pardon and eventually re-established him in business in Worcester.