1

Comments
Published by Jane on Saturday, October 11, 2008 at 9:56 AM.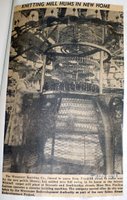 In the
1930 Census record for the Deedy family
, John G. Deedy (my grandfather) gives his occupation as foreman at Knitting Co. The full name of the company was the Worcester Knitting Co. and my grandfather spent most of his working life there.

There is a story behind how he became employed at the knitting mill. One day John G. Deedy got into a car accident with Abraham S. Persky. It must have been a fairly minor one, or perhaps Mr. Persky was at fault. Whatever the details of that day, the result of that accident was Mr. Persky, who was the owner of the Worcester Knitting Company, became a friend and then John G. Deedy's employer.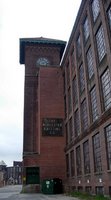 I recently visited the Worcester Public Library and searched through their clipping files for information about the Worcester Knitting Company. You can view the articles found
here
. It appears that one of the main products produced by the Knitting Co. in the 1940's was swim suits. As you look at the clippings you will see many different photos of people at work in the mill and the buildings. Looking through the articles, I have a better feel for what my grandfather's working environment was like.
You can still visit the site of the mill in Worcester today. However, while the building still has the Worcester Knitting Co. sign, it no longer contains the mill. I believe the building is now just a warehouse.
Labels: Deedy