0

Comments
Published by Jane on Monday, October 06, 2008 at 8:48 PM.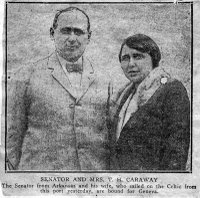 Between the pages of one of the Sullivan scrapbooks, a letter was found addressed to Maurice Sullivan from Senator Caraway of Arkansas. The text of the letter is below. Unfortunately, the letter Maurice Sullivan wrote to Senator Caraway was not in the scrapbook. I wonder if there is a slim possibility that letter still survives among Senator Caraway's papers? Do they keep the correspondence of Senators?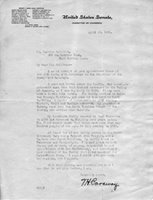 April 23, 1921
Mr. Maurice Sullivan,
#59 St. Andrews Road,
East Boston, Mass.
My dear Mr. Sullivan:-
I am in receipt of your appreciated favor of the 20th inst. with reference to the relations of the Bradys and Caraways.
I know but little about the family. Our immediate ancestors came from West Ireland somewhere in the Valley of Shannon as I recall, early in 1633. It may have been a little time later. The family settled in Halifax County, Virginia, and some of them went to North Carolina. A number of intermarriages with Stones, Custers, Owens and Easleys occurred. My grandfather Caraway came from the North Carolina branch of the family, who settled near Raleigh.
My immediate family removed to West Tennessee in 1826 and returned to Virginia some years later. The first census shows that there were more than one hundred people of the name in this country in 1780.
At least two of our family served in the Revolutionary War; one a Colonel from Virginia and a Captain from North Carolina. My family lived in Tennessee and Mississippi. I myself lived in both States and we were, of course, interested in and sympathizers with the Confederacy, and therefore I know nothing of the family that lived north of the Mason-Dixon line. I wish I could give you more information, but I cannot.
With best wishes, and assuring you that I was glad to get your letter, I am,
Sincerely yours,
T. H. Caraway
After reading the letter, I can see that my great-grandfather, Maurice Sullivan shared my interest in learning more about our family history. Nice to see that my inquisitiveness might be genetic based - I am not just a snoop!
Labels: Sullivan