0

Comments
Published by Jane on Sunday, November 30, 2008 at 3:56 PM.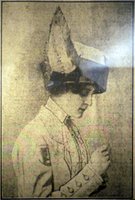 Unfortunately, I have not found a wedding photo of the McDonough - Ahern wedding, but this photo appeared on the same page as the wedding article. The article has a few typos, but it paints a striking image of the event. The photo of the woman in the hat helps you visualize the fashions described:
Worcester Evening Post
August 19, 1912
AHERN - MacDONOUGH
Miss Sarah W. MacDonough, daughter of Mr. and Mrs. Thomas MacDonough of 1 View street, was the first bride to be married in the church of the Ascension. Miss MacDonough was married to Albert J. Ahern of South Windsor, Conn. at 9 o'clock this morning. The Rev. James J. Farrell rector of the church, performed the ceremony.
The bridesmaid was Miss Anna G. MacDonough, a sister of the bride, and the best man was David Ahern of Windsor, a brother of the bridegroom.
The bride wore a suit of white serge trimmed with heavy silk braid and a white felt hat ornamented with two birds of paradise. She carried a shower bouquet of bride roses.
Miss Anna wore a white serge Norfolk suit with a black velvet hat trimmed with two algrettes. She carried pink sweet peas.
The bridal party entered the church to the strains of the wedding march from "Lohengrim," played by Miss Ella McCarthy, who played the Mendelsohn wedding march, as a recessional. Charles J. Hickey was soloist at the mass.
A wedding breakfast for members of the families was served in the home of the bride's parents, after which Mr. and Mrs. Ahearn left on a wedding trip to Canada. They will live in Windsor Ct.
The bride traveled in a blue tailored suit, with a blue felt hat to match.
Mr. and Mrs. Ahearn received many beautiful wedding gifts, including silver, cut glass and bric-a-brac.
I found it interesting that the article mentions what kind of wedding gifts the couple received. I had no idea that bric-a-brac was considered as desirable as silver!
Labels: McDonough