0

Comments
Published by Jane on Wednesday, August 22, 2007 at 8:29 PM.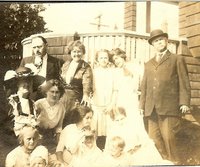 Mary Kennedy Dean has once again contributed some great pictures. Mary has identified the folks in the photo as follows:
Top Row: (l-r)Tom O'Leary, Mame McDonough O'Leary, ? ? Thomas McDonough
Middle Row: (l) Katherine McDonough
Bottom: Could that be Grace Deedy bottom left?
She believes the pictures was take on the porch sometime c. 1910.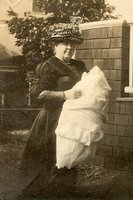 This photo of Nana McDonough holding a baby was also taken around 1910.
As always any additions or corrects to the provided information are welcome in the comments. To see the photos a bit larger just click on them.
Thank you again Mary Dean!
Labels: McDonough