0

Comments
Published by Jane on Saturday, March 22, 2008 at 4:34 AM.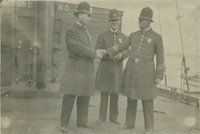 Maurice Sullivan was a Boston Police officer for many years (in this photo he is on the right shaking hands (has mustache) - click on image to see larger) . I have been gathering news stories which mention him during his long career. Below are three related articles which tell a rather funny tale about bootleggers in the North End of Boston in 1924. Maurice is quoted in the articles and his sense of humor and sly cunning when dealing with his elusive rum runner comes through in the stories. One thing to note, at the time of these events Maurice Sullivan was 62 years old.
BIG BUREAU DRAWER FILLED WITH MONEY FOUND IN RAID
Police Escort "Poor" North End Man to Bank So He Can Deposit the $2500
Boston Daily Globe
Dec 12, 1924
The tale of Santo DeMore of 15 Stillman Street, North End and his bureau drawer full of cash was related in the Courthouse this morning. Probably no gentleman searching for liquor ever had such a startling discover as did Srgt. Maurice Sullivan of Station 1, Hanover St and patrolman Feeney and Dooley a couple of days ago.
Srgt. Sullivan and the two officers, armed with a search warrant, went to DeMore's house looking for liquor. They found none. But in the course of the search they pulled out the drawers of a bureau. There was nothing of consequence in the first two drawers, and then they hauled out the last.
It was filled with money. Bills almost overflowed the drawer; there were bills of all denominations, and underlying them were quantities of silver coins, quarters, halves and dimes.
"How much money here, Santo?" asked Sergt Sullivan.
Santo, throwing his shoulders back, said:
"Not more that $100"
"Well, you'd better get it together and take it to a bank. What would you do if the house was broken into?" asked the sergeant.
De More objected. He is bank shy, having had deposits with Mr. Ponzi and also with the Hanover Trust Company and another of the closed trust companies at the time of the big "bust up". His money, he thinks, is safer in his own bureau drawer. But the police officers thought differently and finally persuaded him to take it to a bank.
Gathering the money took a long time, but it was done finally and then the three officers escorted the man whose home they had entered looking for liquor, and whom they had expected to arrest, to the bank, while he deposited his good-sized nest egg. The money filled a large bag.
"This is the funniest finish of a liquore raid I ever knew," said the sergeant.
De More, father of four children, is supposed to be poor. He is the proprietor of a taxicab, with a stand on North Margin St.
------------
Boston Daily Globe
Dec 13, 1924
RAIDERS FIND NO RUM, BUT PLENTY O' MONEY
Persuade North End Man to Deposit $2500 Hoard
"That was the funniest finish of a liquor raid I ever knew." said Sergt Maurice Sullivan of Station 1, Hanover st. yesterday when he had returned from the home of Santo de More of 15 Stillman st. North End where he had been with a search warrant.
The officers found a drawer full of bills and coins amounting to $2500, and persuaded de More to overcome his distrust of banks and go, under escort, to place the money in a bank. This was accomplished only after de More had explained that he had been caught in the Ponsi scheme and bank failures of that period. The raiders found no liquor.
De More found a bag finally and filled it with bills of all denominations and quarters, nickels, halves and dimes. The man, father of four children, and supposed to be poor, is proprietor of a taxicab with a stand on North Margin st.
-------------
Boston Daily Globe
Dec 27, 1924
NORTH END MAN BEFORE COURT
Police Call Him "King of Bootleggers"
Santo DeMore of 15 Stillman st. North End alleged "king of bootleggers" in that district, appeared before Judge Duff in the Municipal Court this morning on a charge of keeping and exposing liquor for sale and also with making a sale of liquor. The case was continued to Monday.
DeMore says he conducts a taxicab business on North Martin st. He fell foul of the police a couple of weeks ago, when Sergt Maurice Sullivan and special officers Dooley and Feeney with a search warrant entered his premises in a search for liquor. The police found no evidence of hard drink there, but they did find that DeMore had $2500 in bills and silver in a bureau drawer. Sergt Sullivan told him that he must not leave such a large amount of cash lying around in that fashion, for someone would be sure to learn of it and steal it and perhaps murder him in the attempt. The police insisted that he put the money in a safe place and they went along with him to a bank.
Sergt Sullivan discovered on the next day that DeMore had hired two empty rooms on North Martin st. With a squad he went there and found Mrs DeMore, Santo's mother, who is 74 years old, sitting on two cans of hooch containing 66 gallons. The police arrested her and brought her into court, where she was found guilty and fined $200.
Sergt Sullivan at another time conducted a raid at DeMore's house and found 72 gallons of moonshine hidden in the walls. This was several months ago. Two or three weeks later, Sergt Sullivan found a barrel of moonshine concealed in a gasoline can.
Labels: Sullivan