3

Comments
Published by Jane on Sunday, February 21, 2010 at 4:25 PM.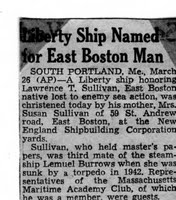 My Great-uncle Lawrence T. Sullivan was serving on a merchant marine vessel in 1942 when it was
struck by a German U-boat
and he was lost at sea. In 1945 a Liberty ship was dedicated in his honor. For the dedication his Mother, surviving 8 siblings and their families and friends gathered for the ceremony. The picture below (click to view larger) was taken at the shipyard and I have numbered the group (36 people) and with the help of various family members managed to put names next to most of the numbers.
I am hoping someone visiting the blog might be able to help fill-in the missing names (or provide corrections if needed) and finish identifying everyone in the photo.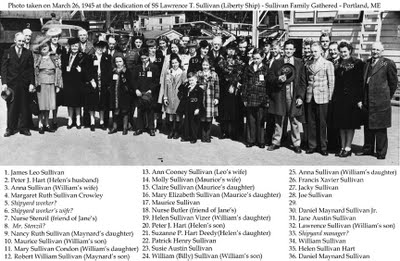 For those curious about the fate of the Liberty ship named after Lawrence T. Sullivan - it was scraped in 1971 - see image below for its history (click to view larger).

Labels: Sullivan