2

Comments
Published by Jane on Monday, May 04, 2009 at 8:34 PM.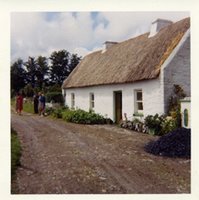 Among the items in the Dowd Collection was this photo of a thatched roofed home located somewhere in the county of Roscommon, Ireland. In 1966 the Dowd family visited Ireland and located the McDonough homestead. Along with this picture were others on 35mm slides. The slides are a series of images of the house, the surrounding views of the countryside from the farm, and images taken along the road leading to or from the farm.
Unfortunately, while scanning the slides I experienced some technical difficulties. I have other images of the home and farmstead to share in future posts, but one image in particular I am missing - a photo of a sign post which must be near the old McDonough farm. While I am missing the image, I do have the information on the sign.
Pointing left to Geevagh 5 1/2 and Drumshanbo 17 and right to Ballygawley 4 and Sligo 10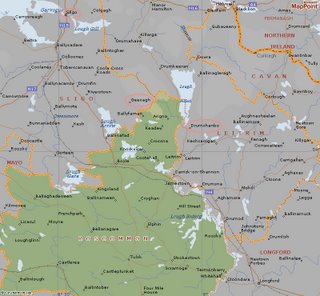 If you click on the map above to view larger, you will see that I have found and circled three of the four locations from the sign. It appears that the most likely area of Roscommon that the farm is located is in the Northern area and near the Sligo boarder.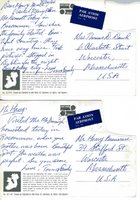 The Roscommon riddle that we need to solve is this - given the information in the postcards, the picture, information from the sign, and locations on the map - can we narrow down a specific location for the farm?
As always any additional information or suggestions are welcome either by email or in the comments.
Labels: Dowd_Collection, McDonough