2

Comments
Published by Jane on Sunday, May 03, 2009 at 4:33 PM.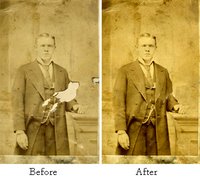 Among the collection of Dowd images, was this photo of Bartholomew McDonough (Father to Mary McDonough Dowd and Uncle to the McDonough children of 1 View Street). As you can see the original photo was not in the best shape. I spent a few hours today fixing the image to the best of my ability.
I wanted to highlight this work to assure anyone out there who has old pictures that are not in perfect condition - these images can be saved!
Labels: Dowd_Collection, McDonough