0

Comments
Published by Jane on Saturday, July 14, 2007 at 11:17 PM.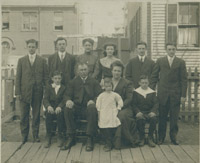 I am lucky enough to have two family portraits of the Sullivan's. The first was taken
Easter Sunday 1910
. Location: At the time this photo was taken the Sullivan family was living at 610 Bennington Street, East Boston, MA. Close to the Bennington Street house lived the Austin's – Grandparents to the Sullivan children – on Saratoga Street. We believe this photo was taken on or near the back yard of this Austin's home. The brick building seen in the background could be part of the St. Mary's church and school property.

1. Maurice Sullivan
2. Susie Austin Sullivan
3. Maurice Sullivan Jr.
4. Patrick Henry Sullivan
5. Margaret Ruth Sullivan
6. Jane Austin Sullivan
7. Daniel Maynard Sullivan
8. William Austin Sullivan
9. James Leo Sullivan
10. Lawrence Timothy Sullivan
11. Helen Susan Sullivan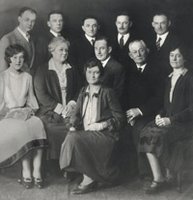 This undated photo appears to have been taken in the 1920's. All of the people pictured in the earlier portrait are present in this one - so we have an opportunity to see how they looked as children and then as adults.
By this time the family have moved from Bennington Street to St. Andrew Road. Some had married and started families of their own, but all still lived close enough to gather for the photo.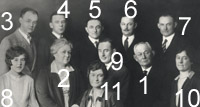 1.Maurice Sullivan Sr.
2.Susie Austin Sullivan
3.Patrick Henry Sullivan
4.Lawrence Timothy Sullivan
5.William Austin Sullivan
6. Maurice Sullivan Jr.
7. Daniel Maynard Sullivan
8. Helen Susan Sullivan Hart
9. James Leo Sullivan
10. Margaret Ruth Sullivan Crowley
11. Jane Austin Sullivan
Labels: Sullivan