0

Comments
Published by Jane on Sunday, May 13, 2007 at 1:01 PM.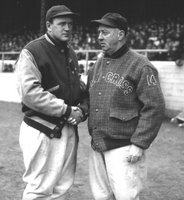 Dad was visiting Fenway Park yesterday to attend the Red Sox game. A fundraising booth had been set-up and the Boston Public Library was selling prints of old Red Sox photos found in the archives. He was amazed to see this image of his uncle Jack Barry shaking
Joe Cronin's
hand in an undated Fenway Park photo.
The person selling the photos said this picture was one of its most popular. Lots of Joe Cronin fans and Holy Cross alumni were the main purchasers.
Labels: Jack_Barry