6

Comments
Published by Jane on Wednesday, May 23, 2007 at 11:00 PM.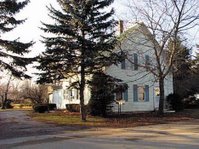 After posting the 1888 articles about the Alfred D. Snow shipwreck my Mother did a little research at the library and discovered that a Maine historian had recently presented a lecture on the subject - The Alfred D. Snow! She asked me to do some emailing to see if any information might be found and the following email message was received this evening:
Hi Jane!

You should have been in Thomaston, Maine last September when we presented a lecture on the Alfred D. Snow at the Thomaston Historical Society, which was repeated at the Owl's Head Transportation Museum this winter.

We were given a model of the Ship Alfred D. Snow, which had been crafted by a crewman aboard the vessel on a passage from Thomaston to CA. At that time Captain Willey and his family were aboard and the model was presented to the Captain's daughter, Lizzie, named in her honor.

This gift prompted a research into the vessel's past and the Thomaston men, who were part of her crew. We found the houses belonging to those men, who lost their lives in the tragedy. We didn't have much information on Patrick H. Sullivan's family. According to our genealogical sources, Patrick Sullivan came from county of Waterford, Ireland; m. Jane Brady of Thomaston on Aug 18, 1851. Patrick H. was the son of Patrick Sullivan.

Patrick's brother, Timothy, b. abt 1810 in Ireland and his wife Ellen were in Rockland, ME (neighboring town) at the same time. Timothy died suddenly on Feb 26, 1863, but left children.

I have attached a photo of Patrick Sullivan's house, which is on the same street of Captain Willey's home.

Sincerely,
Margaret McCrea
President, Thomaston Historical Society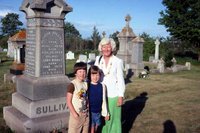 These exciting nuggets of information had me searching my scans of old slides and I came up with this image taken in 1976 or 1977 of my Mother (Suzanne Deedy) and my brother (Conal Deedy) and myself (Jane) in front of the Sullivan family gravestone (My Mother's mother was Helen Sullivan) in Thomaston, ME.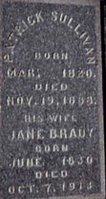 This close-up of the gravestone lists Patrick Sullivan (1820-1888) and his wife, Jane Brady (1830-1913). These are my great-great grandparents. The painting that started this whole research quest has been in the family for as long as my Mother could remember, but she had been told it was the ship of an Uncle who was lost at sea. It was only as we read the articles found on the back of the painting that more details emerged.
Thanks to Margaret McCrea's information I can now confidently say Patrick Sullivan on the family gravestone is the Father of P.H. Sullivan, first-mate, who died in 1888 on the
shipwreck of the Alfred D. Snow
on the Irish coast.
The sea appears to have been both kind and cruel to my ancesters. My great-aunt Jane Austin Sullivan (daughter of Maurice Sullivan who was the brother of P.H. Sullivan) left behind some notes about her family history. They reveal that P.H. Sullivan's Father, Patrick, immigrated from Ireland with his Father and three brothers.
He and two sons died of ships fever and are buried in Nova Scotia. G. Father Patrick Sullivan, after death of Father and two brothers made his way to Thomaston, ME. Stayed there working for Capt. Watts.
The notes from my great-aunt continue with this:
Gr. Mother Jane Brady born June 1830 died Oct. 7, 1913. She came from Ireland, June 1847 in the Brig. General Tailor commanded by Capt. Lilly of South Warren, her Father Maurice Brady her Mother Margaret Caraway of the Town of Sligo County Sligo Ireland.
In the notes Jane crossed out a paragraph. This is what I can make out of the scratched out notes:
Gr. Mother Jane Brady an orphan was going to be adopted by the Protestant side of the family the Cordways. The Bradys decided to send her to … The Brady's in Maine Captain Lilly of South Warren Maine was looking for a nurse maid for his child on the voyage home. Jane came to Thomaston and lived with the Elliot's.
From these pieces of information a tale is starting to emerge. Patrick Sullivan, having survived the crossing from Ireland to Nova Scotia with his brother Timothy buried his Father and other two brothers and made his way to Thomaston, ME to work for Capt. Watts. In Thomaston, ME he met and married Jane Brady, who herself survived the crossing at age 17 - paying for her passage by working as a nursemaid for Capt. Lilly. Their son, P.H. Sullivan, later found work as a sailor for Captain Willey.
Patrick and Jane's younger son, Maurice, left Thomaston and moved down to Boston to work as a police officer. One of his sons (Lawrence Timothy Sullivan) became a Captain and loved the sea. He, like his uncle P.H. Sullivan, died at sea. His ship was torpedoed in World War II. More on that history
later
...
Labels: Sullivan