3

Comments
Published by Jane on Sunday, May 27, 2007 at 11:13 PM.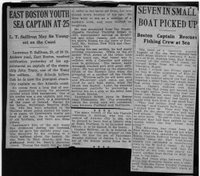 Pictured is a page from one of the old scrapbooks I have been scanning. Unfortunately, I don't know the source of the newspaper articles, nor the date.
EAST BOSTON YOUTH SEA CAPTAIN AT 25
L. T. Sullivan May Be Youngest on the Coast
Lawrence T. Sullivan, 25, of 59 St. Andrew road, East Boston, received notification yesterday of his appointment as captain of the steamship John Tracy, one of the Tracy line colliers. His friends believe that he is now the youngest steamship captain on the Atlantic coast.
He comes from a long line of seamen, numbering among his ancestors several noted Irish navigators. One of his uncles was a sea captain, and was lost, with all the crew, in a shipwreck off the coast of Ireland. Except for his father, Patrolman Maurice Sullivan, who has been attached to the Hanover street police station for nearly 40 years, all Lawrence's family are fond of the sea. He is the youngest of six brothers, and there are three sisters.
Lawrence's love of the salt water was evidenced during his boyhood when he gave his mother many anxious moments by his cruising in a small sailboat about the harbor. He was born in East Boston, and was graduated from St. Mary's parochial school. During the world war he tried to enlist in the naval air force, but was turned down because of his age. He then went to sea as a member of a tanker's crew, and later worked on freighters.
He was graduated from the Massachusetts Nautical Training School in 1921, subsequently serving on freighters and other vessels, and obtaining his pilot's license fro the ports of Portland, Me., Boston, New York and Chesapeake bay.
During his sea service, he had many exciting experiences. While on the oil tanker West Arrow of the Oriole Line a few years ago that vessel was in collision with a Cunarder and almost sunk in midocean. The tanker, badly damaged, reached port with great difficulty. He was serving on the steamship Brush of the Nawsco Line when she grounded on a sandbar off the Pacific coast. Wireless calls for aid were sent and life-savers' craft came out and stood by until high water, when the Brush was floated. Later he received newspaper publicity by preventing a serious fire on a ship at the army base at South Boston.
Lawrence's father came to Boston from Thomaston, Me. The steamship, which the young man will command, runs between Portland and Baltimore.
Labels: Sullivan