0

Comments
Published by Jane on Sunday, April 19, 2009 at 7:23 PM.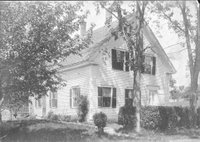 Daniel M. Sullivan Jr. sent me a letter a few months ago with a very interesting tale. It involved Patrick Sullivan (1820-1888) and his home on Dunn Street in Thomaston, Me.
According to Daniel, my great-great grandfather, Patrick Sullivan, was a man of modest means in Thomaston, but he had saved enough to purchase a lot of land on Dunn Street. But now that he had the lot of land, finding the money to build a home was beyond his reach. At least it was until the town of Thomaston decided to relocate and build a new post office. With the old post office building no longer needed, Patrick struck a deal with the town. He would buy the building for $1 and pay to move it onto his land on Dunn street.
Pictured above is the Sullivan family home on Dunn Street in Thomaston. This image is likely from the early 1900s. The wood frame building clearly looks like a home, but now we know its former history as the town post office!
Labels: Sullivan