0

Comments
Published by Jane on Thursday, March 12, 2009 at 10:43 PM.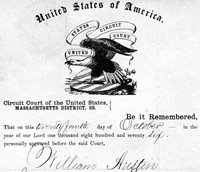 It is amazing what can be learned from one document! My Great-Great Grandfather's
1876 Naturalization
record has been uncovered. This record provides the answer to a long asked question. Just where in England was he from? The answer: County Kent, England. The record also provides his birth date - December 2, 1819. Those two clues may help me trace back one more generation to my Great-Great-Great Grandparents. If I can find a record of William's birth in 1819, that record should list his parents...
Another interesting find in the document came about when I took a closer look at William's witnesses. Generally the people who vouched for you in Naturalization documents are close friends or family. One of the men listed is Richard Fraser. A search of the Massachusetts vital records reveals that in 1875 (a year before this document was executed) one
Richard Fraser married Margaret Austin
. Margaret was William's daughter, so one of his witnesses was his son-in-law.
Labels: Austin