0

Comments
Published by Jane on Saturday, March 14, 2009 at 2:44 PM.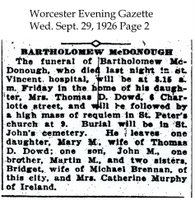 Among the slew of Christmas cards I received, one from Dianne Dowd arrived containing a copy of
Bartholomew McDonough's 1926 Obituary
. After a considerable hunt, I managed to unearth that important piece of paper, scan it and now it is attached to this post (link above).
Reading this obituary, I see that between 1913 (
Thomas McDonough's obituary
) and 1926, brother Bartholomew's obituary, the remaining McDonough siblings remain alive and I assume in their same locations. At least sister Catherine (or Katherine as was the spelling in Thomas' obit) Murphy is still in Ireland.
I would still love to be able to find photos of the siblings, if they exist. Pinpointing their village in Ireland is still another research goal...
Labels: McDonough