1

Comments
Published by Jane on Monday, April 06, 2009 at 6:21 PM.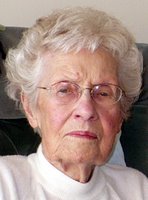 Rita "Mae" Deedy
She was born April 30, 1915 in Worcester, Massachusetts and named Rita. The fifth and youngest of parents Edward and Hannah, she was their late in life child, born when both were in their 40's. Her eldest brother, Daniel was 14 when little Rita joined siblings John, Louise, and Elizabeth at 12 Wabash Avenue. She may have first been introduced to her siblings as Rita, but it was not long before the family started calling her Mae. The story goes that the doctor who missed her delivery placed her in her mother's arms the next day exclaiming she was absolutely beautiful and should be named after the May day.
Mae spent her career working in insurance in a claims office. General Adjustment Bureau was the company she retired from according to Uncle Justin's memory. Mae was a worker – certainly not much of a traveler. She was a quiet woman, happy to let her more outgoing sister Bet carry most conversations. She was methodical and orderly – not artistic like her sister Lou. Change was not something she embraced – she spent the first 70 years of her life at 12 Wabash Avenue and all 93 years of life in either Worcester or nearby Shrewsbury.
She was 14 years old when her eldest brother Daniel died in 1929. While that brother left young, her remaining brother John G. Deedy stayed close until 1985 when he passed away. He provided Mae with four nephews. The oldest Jack arrived when Mae was just 8 years old herself. Ed arrived when she was 10. For Jack and Ed, Mae was closer to being a contemporary – certainly she was not viewed the same as their adult aunts and uncle. Nephews Justin and Tom arrived later, when Mae was 16 and 20 years old – for them she always belonged among the adults.
Today Mae quietly left us all and is reuniting with her parents, siblings and nephew Jack.
The Funeral will be held Monday April 13 at 11 AM at St. Mary's 640 Main Street, Shrewsbury, MA. Calling hours at the funeral home are 9: 30 – 10:30 Monday April 13 at Callahan Fay Funeral Home 61 Myrtle Street, Worcester, MA. Burial will be in St. John's Cemetery, Worcester.
Callahan Fay Funeral Home
Worcester Telegram & Gazette Obituary
link
- April 10, 2009.
PDF version of page
Here is the
Eulogy
Justin Deedy Jr. read during Mae's Funeral on Monday April 13, 2009.
Lastly a special thank you to Bill Deedy who was kind enough to obtain a number of copies of the Worcester Telegram on the day Mae's obituary was published and handed those out to Mae's nephews Justin, Tom, and Ed Deedy.
Labels: Deedy