1

Comments
Published by Jane on Tuesday, March 10, 2009 at 7:59 PM.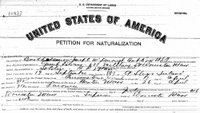 The family history search continues. Finding the time to analyze the finds and then post about them is the hard part for me lately. Life is very busy! Enough excuses from me, here is the latest:
You may recall that Thomas McDonough (my great-grandfather)
obituary
revealed that he had siblings. One of whom was named Bartholomew. I was able to locate Bartholomew's
grave
in Worcester.
Unfortunately I was stopped at that point. You would think a name like Bartholomew McDonough would be fairly unique. I had hoped that uniqueness would help me locate a Naturalization record for him.
I did find paperwork for the Naturalization in Worcester in 1918 of a
Bartholomew Joseph McDonough born 1887
in Sligo, Ireland. Now this Bartholomew can't possibly be the brother of Thomas - he is far too young. But could he be a nephew?
Labels: McDonough