0

Comments
Published by Jane on Tuesday, September 16, 2008 at 5:37 PM.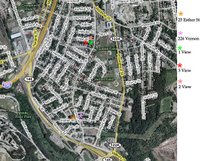 I have been hard at work trying to untangle the various Loftus connections to see if I can verify all of Mary Loftus McDonough's relatives who immigrated to Worcester, MA. From family stories, I had heard that Mary Loftus McDonough's parents resided in Worcester with her or near her when they were quite old. The story went that Mary helped support her parents toward the end. In the
1900 Census
I saw that Mary's Father, Patrick Loftus was living with her - so this supported the family story.
I continued to search for Loftus relatives in Worcester, but realized that the name is not very unique. To aid in my identifying Loftus relatives I paid particular attention to addresses. Mary Loftus McDonough owned a number of properties around Worcester and made a habit of renting to her relatives. In the above map, I have marked the properties I believe Mary Loftus McDonough owned (click on image to view larger). Knowing these addresses has helped me confirm that yes, Mary Loftus McDonough helped support her parents in their later years. As you will read below, her Mother (Mary Morley Loftus) and Father (Patrick Loftus) were living at 25 Esther Street in 1899 when Mary Morley Loftus passed away. By 1900 we know Patrick Loftus was living with Mary Loftus McDonough at 1 View Street. In 1903, Patrick Loftus was waked at 226 Vernon Street where his daughter,
Winnifred Loftus Murphy
was living.
Obituary of Mary Morley Loftus

LOFTUS -- In this city, July 23 [1899], Mrs. Mary (Morley), wife of Patrick Loftus.
Funeral from her home, 25 Esther street, Tuesday morning at 8:15. Requiem high mass at the Sacred Heart church at 9 o'clock. Friends and relatives are invited to attend.

Death Record

Date of Death: July 23, 1899
Mary (Morley) wife of Patrick Loftus
Female
Married
57 years old
Cause of Death: Shock
City: Worcester
Occupation: Housewife
Birth Place: Ireland
Father: John Morley (Ire.)
Mother: Ellen Moran (Ire.)

Obituary of Patrick Loftus

LOFTUS -- In this city, Dec. 9 [1903], Patrick Loftus, Funeral from the home of his daughter, Mrs. Martin Murphy, 226 Vernon street, Friday morning at 8:15 o'clock. Solemn requiem high mass in Sacred Heart church at 9 o'clock. Relatives and friends are invited to attend, and kindly requested not to send flowers.

Death Record

Patrick Loftus
Worcester City Hospital
December 9, 1903
64 years old
Widowed
Birth place: Ireland
Name of Father: Patrick Loftus (Ireland)
Name of Mother: Mary Morley (Ireland)
Occupation: Laborer
Informant: Patrick Loftus (son)
Primary: Fracture femur - duration 6 days
Contributory: Hypostatic Pneumonia - duration 4 days
Now, Patrick Loftus death record is a bit confusing. I believe the son, young Patrick Loftus, was confused when asked for the information. Perhaps he thought they were asking for his Father and Mother's name. The other theory is young Patrick simply did not know the information and just gave his information. Another thing to note with this information is the ages listed for both Mary Morley Loftus and Patrick Loftus at death. I believe these ages are incorrect. Patrick Loftus was listed as 70 yrs old in the 1900 census - which would mean he was 73 yrs old at death, not 64 (the age young Patrick likely provided - do you see why I don't trust young Patrick's information?) Mary Morley Loftus age of 57 seems far too young. However, I believe her parents names are listed correctly. The death record does not say who provided the information, but likely it was her husband Patrick Loftus, since he would have been alive in 1899.
More to come as I continue to try to untangle these Loftus connections!
Labels: Loftus