3

Comments
Published by Jane on Friday, September 12, 2008 at 6:57 AM.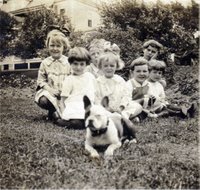 At the Gathering last Sunday a number of people who brought old photo albums had a common question - "Do you know who these people are in this picture?" If you can help identify people in group shots (as always, click on images to view larger), please leave a comment on the post or send me an email. Here is a photo where we are trying to identify everyone. This photo was submitted by Mary Kennedy Dean and it was likely taken in the yard at 1 View Street in Worcester. Here is who has been identified so far by Mary and Paul Drew-Bear: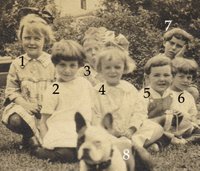 1. Marion O'Leary
2.
Peggy McCarthy Rafferty
3. Marie McDonough
4. Evelyn McDonough
5. Tom Kennedy
6.
7.
8.
Labels: McDonough