0

Comments
Published by Jane on Thursday, August 28, 2008 at 10:29 PM.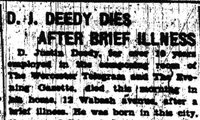 Growing up, I had heard stories that my Grandfather, John G. Deedy, had an older brother. But his brother had died young and was much missed by his siblings. It bothered me that dying young was all I did know about my great-uncle Justin. I recently found the following
obituary
and it provided me with a bit more information about his life. Unfortunately, I have not been able to find a photo.
Worcester Evening Gazette
July 11, 1929

D.J. Deedy Dies After Brief Illness

D. Justin Deedy, for over 10 years employed in the composing room of The Worcester Telegram and The Evening Gazette, died this morning in his home, 12 Wabash avenue, after a brief illness. He was born in this city, the son of Edward B. and Hannah (Donovan) Deedy. He was a graduate of St. John's High school. He leaves, besides his parents, one brother, John G., and three sisters, Louise B., Elizabeth G. and Rita M. Deedy, all of Worcester. He was a member of Worcester Union, International Typographical Union.

The funeral will be held privately at the home Saturday morning. Relatives and friends are invited to call at the home tonight from 7 to 10 and tomorrow from 2 to 5 and 7 to 10. There will be a solemn high mass of requiem in the Church of the Ascension Saturday at 9 o'clock. Burial will be in St. John's cemetery.
One sad story my Father recently told me was that when D. Justin died, the doctor indicated to his Father, Edward B. Deedy, that his smoking habit may have contributed to his son's death by weakening his lungs over the years. On hearing that, John G. Deedy (D. Justin's brother) took his half-full pack of cigarettes out of his pocket and tossed them into the top drawer of his dresser. Some thirty years later, that half smoked pack of cigarettes was still there as a daily reminder. John G. never smoked again after his brother died.
Labels: Deedy