1

Comments
Published by Jane on Tuesday, September 02, 2008 at 8:39 PM.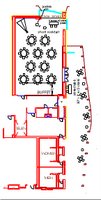 The final details with the DCU Center were completed today. Here is the diagram (click on image to view larger) of the new larger Jr. Ballroom where we will be meeting. You will notice that we have ten tables with eight seats each. There will be no assigned seating and I hope people will be moving around a lot and table hop as we mingle (well, maybe not during the presentations!). Just outside the room is a long/large hallway where smaller tables will be set-up. This will give people a chance to step outside the larger room to mingle in smaller groups (I am not sure how loud the main space will get). So we have lots of room to spread out.
A couple of weeks ago I posted a cemetery map and instructed you to print it out. Well, additional graves have been brought to my attention. Here is the
updated cemetery map
. Please print this new version out and bring it with you!
Labels: Gathering