0

Comments
Published by Jane on Thursday, May 08, 2008 at 8:02 PM.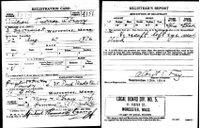 I have been pulling WWI draft cards for various family members. Since the McDonough's have so many girls, I have been pulling their husbands records. Michael Thomas O'Leary is married to Thomas & Mary McDonough's oldest daughter Mary. Below are the details found on the document:
REGISTRATION CARD
Serial Number: 4938
Order Number: 4156
Name: Michael Thomas O'Leary
Address: 3 Germaine Street, Worcester, Mass.
Age: 42
Date of Birth: Aug. 29, 1876
Race: White
U.S. Citizen: Native Born
Present Occupation: President of Gen. Mass Foundry
Employer's Name: L.W. Pond Mach. & Fdry. Co.
Place of Employment: 40 Gold, Worcester, Mass
Nearest Relative: Mary H. O'Leary, Wife
Address: 3 Germaine St., Worcester, Mass
I affirm that I have verified above answers and that they are true: Michael Thomas O'Leary

REGISTRAR'S REPORT
Description of registrant
Height: Medium
Build: Medium
Color of Eyes: Blue
Color of Hair: Black

Has person lost arm, leg, hand, eye, or is he obviously physically disqualified?
No except left eye nearly blind

Signed: Albert E. Fay (Registrar)
September, 12th, 1918
Some things to note from the information above - M. Thomas O'Leary died in February 1919, about five months after signing this draft card. He and Mary have moved from 1 View Street (where they lived for the
1910 census
) to 3 Germaine St, which appears to be a single family home. The mention of his eye problem could explain why we see M. Thomas in glasses in this
photo
. Lastly, the registrar has the last name Fay - could he be any relation to Mary's sister's husband - James Fay?
Labels: OLeary