2

Comments
Published by Jane on Saturday, December 09, 2006 at 9:48 PM.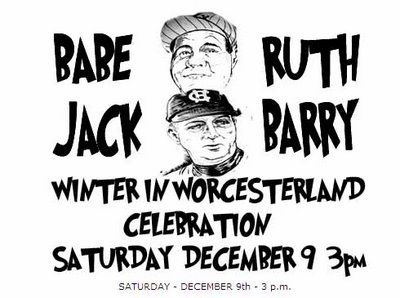 [Click on image to see larger]
Who was Jack Barry and how is he related to the Deedy's? Jack Barry was married to Margaret McDonough Barry who was the older sister of Grace McDonough Deedy. Jack Barry played professional baseball for the Philadelphia Athletics and the Boston Red Sox. He then became the coach of the Holy Cross Baseball team. Famous friends of his like Babe Ruth and Lefty Grove would come to visit and stay from time to time at his home in Worcester, MA.
Today he was honored at a luncheon at
The Hotel Vernon
.
Want to read more about the connection between the Deedy's and Babe Ruth?
The Best of Baseball Digest
Page 358 "...[1996] The Day I Collected Babe Ruth's Autograph BY JOHN DEEDY
When I was growing up in the 1930s in central Massachusetts, baseball cards were for play. We pitched them against..."
Labels: Jack_Barry