0

Comments
Published by Jane on Tuesday, July 29, 2008 at 10:39 PM.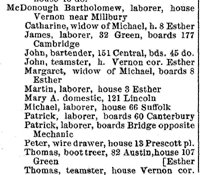 Since discovering that
Thomas McDonough had siblings
living in Worcester prior to his 1913 death, I have been reviewing the Worcester Directory to see if I could find them. Here are the pages I have found of the
Worcester Directory from 1878 - 1913.
In 1878 there are only two McDonough males listed in the directory. Thomas McDonough and a Frank McDonough (who appears to be moving to Fall River). In 1879 we have four McDonough's listed, and it appears Thomas McDonough's brother, Martin McDonough has now joined him in Worcester. In the 1885 - 1886 we see that Thomas McDonough appears in the business directory for operating a boarding house. By 1887 it appears Bartholomew and Annie McDonough have joined siblings Thomas and Martin in Worcester.
Now that I have some dates of arrival to go with names, I will see if I can find passenger records or naturalization records for the siblings.
Labels: McDonough