1

Comments
Published by Jane on Thursday, July 03, 2008 at 11:14 PM.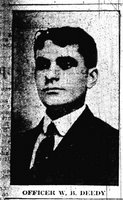 This is my vacation week and I could not let it pass without spending at least one day furthering my family research. Today I was able to draft my Father into joining my quest and together we traveled to Worcester to visit the library. My Uncle Justin had recently sent me a memorial card found among Edward B. Deedy's effects (Grandfather to my Father and Uncle Justin) which listed his brother, William B. Deedy's, death date. A visit to Great-Aunt Mae revealed that her uncle, William B. Deedy, was a Worcester policeman and she recalled that he had died in an accident while on duty. With these clues, my Father and I were able to track down the
following newspaper article
which tells the whole sad tale.
Worcester Evening Gazette
Tuesday October 5, 1920
Patrolman Deedy Struck by Truck in Shrewsbury St.
Patrolman William B. Deedy, Station 1, was instantly killed at the corner of Shrewsbury and Lyons streets at 12:30 a.m. today, when he was struck by an automobile truck driven by Samuel Malta, 13 Minot street, Boston and thrown across the street against the curbing, sustaining a fracture of the skull.
Samuel Minden, 192 Blue Hill avenue, Roxbury, who was driving another motor truck, directly in front of the Malta truck, heard a cry, stopped his machine and looked around in time to see the body of the patrolman fall against the curbing. The unconscious form was picked up and taken to City Hospital in the Minden machine under orders from Sergt. Frederick Hays.
Upon arrival at the hospital it was discovered the officer was dead and his body was taken to the morgue.
Malta was sent to station 1 to report the accident and in his report he stated he was driving towards Boston at the rate of about 10 miles an hour, when he noticed a touring car parked against the center curbing on the south side of Shrewsbury street. Just as he was passing this touring car, which was on the wrong side of the highway, Officer Deedy stepped from behind the machine directly in the path of the truck. According to Malta's story, he stopped the machine within 20 feet from where he struck the officer.
The police were unable to locate the owner of the touring car which Patrolman Deedy was evidently examining at the time he met his death, as the machine was on the wrong side of the street, in violation of the traffic rules, and an investigation is being made today.
Patrolman Deedy was appointed to the police department on Sept. 9, 1918, and during the short time he was on the force, he made an enviable reputation as a brave and efficient police officer.
Patrolman Deedy was idolized by the Italian-speaking citizens in the East Worcester district, and his fearlessness in going after gunmen and burglars made him respected by whoever he came in contact with. Patrolman Deedy especially distinguished himself on Muskeego street last winter when he disarmed a man who was holding a crowd at bay with a revolver when the officer arrived. Several months ago Officer Deedy discovered two burglars in a store on Shrewsbury street shortly after midnight and he captured the men in a dark cellar after chasing them through several backyards.
The dead officer also performed efficient police work during the recent railroad wreck near the Hamilton street bridge when he assisted Dr. Robert I. Northridge in caring for the injured.
A police escort consisting of one sergeant and 12 patrolmen, will be picked today by Capt. James T. Johnson for the funeral.
Officer Deedy is survived by his wife, Catherine M. (Collins) Deedy; three sons, Daniel F., John J. and William B. Deedy, Jr.; also his mother in Ireland and three brothers in this city, Edward B., Alexander J. and Morris E. Deedy; two brothers, Daniel C. and Patrick J. Deedy in Ireland, and one sister, Miss Nora J. Deedy of Ireland. He was a member of the Police Relief Association, the Holy Name society of the Church of the Sacred Heart and Worcester Aerie, F.O.E. The body was transferred to the family home, 77 Sterling street, where the funeral will be Thursday morning at 9 o'clock. A high mass of requiem will be offered in the Church of the Sacred Heart at 10 o'clock. Burial will be in St. John's cemetery.
Labels: Deedy