0

Comments
Published by Jane on Friday, June 20, 2008 at 11:32 PM.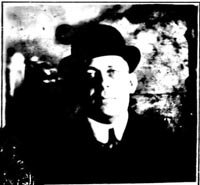 I am still trying to track down the Loftus line to see if I can find out where in England the family once lived. This
1915 Passport application by James J Loftus
caught my eye. The photo is not very clear, but he has a bit of the same
look as Mary Loftus McDonough
. Could he be a younger brother or a cousin? Here is the information he provided in the application:
Bureau of Citizenship
Issued Jan 5, 1915
Dept of State

State of Massachusetts
County of Worcester

I, James J. Loftus, a Naturalized and Loyal Citizen of The United States, hereby apply to the Department of State at Washington, for a passport for myself.

I solemnly swear that I was born at Manchester England on or about the 12th day of July, 1869, that my father emigrated to the United States, sailing on board of the (name of ship not known) from Liverpool England on or about 10 of February, 1880; that he resided 32 years, uninterruptedly, in the United States, from 1880 to 1912 at Worcester, Massachusetts; that he was naturalized as a citizen of the United States before the Central District Court of Worcester Country at Worcester, on Oct 4, 1887 as shown by the accompanying Certificate of Naturalization; that I am the son of the person described in said Certificate; that I have resided in the United States, uninterruptedly, for 34 years, from 1880 to 1914 at Worcester; that I am domiciled in the United States, my permanent residence being at Worcester, 30 Myrtle St in the State of Massachusetts where I follow the occupation of ?? Machinist Laborer?; that I am about to go abroad temporarily; and intend to return to the United States within six months with the purpose of residing and performing the duties of citizenship therein; and that I desire a passport for use in visiting the countries hereinafter named for the following purpose:

England - To sell Machinery
France - To sell Machinery (Consumer Business)
Russia - '' '' ''

He then signs an oath of allegiance on January 4, 1915

[2nd page]

Description of applicant

Age: 45 years Mouth: small
Stature: 5 feet, 6 inches, Eng. Chin: Round + full
Forehead: slightly sloping Hair: Brown
Eyes: Gray Complexion: Medium
Nose: Slightly irregular Face: Oval

Identification.

Worcester Jan 4, 1915

I, James F. Healy solemnly swear that I am a native citizen of the United States; that I reside at Worcester, Mass that I have known the above named James J. Loftus personally for ten years and know him to be son of the person referred to in the within-described certificate of naturalization; and that the facts stated in his affidavit are true to the best of my knowledge and belief.

Signed: James J. Healy
368 Main St. Worcester

Applicant desires passport sent to the following address:

James J. Loftus
30 Myrtle St.
Worcester, Mass
Unfortunately the application does not contain the mentioned naturalization certificate nor does it name James J Loftus' father. In the
1900 census
, Patrick Loftus is listed as having immigrated to the US in 1879 from England and was listed as a resident alien. So those two pieces of data seem to rule out James J Loftus as a brother to Mary Loftus McDonough. However, he could still be a cousin. I should see if I can track down the Loftus naturalization record issued on Oct 4, 1887 - that document might provide more answers.
Labels: Loftus