0

Comments
Published by Jane on Wednesday, April 02, 2008 at 9:00 PM.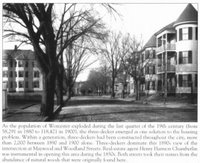 What did the Worcester, MA of 1880 look like for Thomas & Mary McDonough? Why did they choose to settle in this city? I may never be able to fully answer those questions, but the following books provide some clues.
Worcester, 1880-1920
provides numerous photos of the Worcester Thomas and Mary were growing their family in. According to the book, Worcester had a population of 58,291 in 1880. By 1900 the city had swelled with a population of 118,421.
Worcester (Postcard History)
states: At the beginning of the 20th century, Worcester was one of the largest inland industrial cities in the world. The city boasted a diverse manufacturing base that drew immigrants from all over the globe.
So this inland city with its numerous jobs likely first attracted young Mary and Thomas. The explosive growth of the city during their prime working years provided opportunities for them to get ahead. It may also have encouraged them to invite other family members to join them in the growing city with plentiful jobs.
Labels: Worcester