6

Comments
Published by Jane on Friday, February 16, 2007 at 11:45 PM.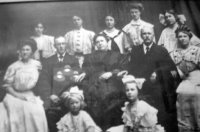 Mary Kennedy Dean of Scituate, MA left a
comment
this evening. She is the granddaughter of Katherine McDonough Kennedy who was my grandmother's (Grace McDonough Deedy) older sister. In honor of the first McDonough comment I thought I would post some more McDonough photos from the photo album.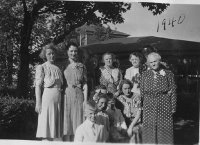 This is the info I have regarding the McDonough Family:
Thomas McDonough (d. 12/7/1913 Steel Mill worker, accidently electrocuted) and his wife Mary Loftus McDonough (d. 8/30/1948) and their ten children. Mary H. McDonough O'Leary (1878-1934), Patrick (Uncle Mac) McDonough (d. 8/6/1952), Sadie McDonough Ahern (Died in childbirth her mother raised her children), Agnes McDonough Thompson (Married a Corp. Lawyer, NYC, 3 boys Leslie, Ted & John), Ann McDonough Fay (Funeral home owner, Worcester, 3 children, Jim, Bill & Nancy), Katherine McDonough Kennedy (Construction), Margaret McDonough Barry (Baseball), Louise McDonough McCarthy (4 children), Eva McDonough Burgess (NYC, 3 children), Grace R. McDonough Deedy (1902-1985 homemaker, 4 boys). The family lived in 1 View Street, Worcester, MA
If you have additional info to add (dates would be great) or just stories about any of the McDonoughs in the list please leave a comment!
Labels: McDonough