0

Comments
Published by Jane on Wednesday, July 09, 2008 at 5:18 PM.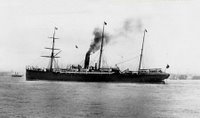 My Great-Grandfather, Edward Deedy (aka Edmund Deady & Edward Deady) appears to have sponsored some of his younger brothers to join him in immigrating from Ireland to Worcester, Massachusetts. His brother, Alexander Deady's
1896 passenger information
has been found. The documentation provides the following information:
Ship: S.S. Pavonia
Departed: Queenstown, Ireland on April 24, 1896
Arrived: Boston, Massachusetts on May 3, 1896
Name in Full: Alex. Deady
Age: 23
Sex: Male
Married or Single: Single
Calling or Occupation: Laborer
Able to Read: yes
Able to Write: yes
Nationality: Irish
Last Residence: Firies
Seaport for landing in the United States: Boston
Final destination in the United States: Worcester
Whether having a ticket to such final destination: yes
By whom was passage paid: Brother
Whether in possession of money, if so, whether more than $30 and how much if $30 or less: $1
Whether ever before in the United States, and if so, when and where: No
Whether going to join a relative, and if so, what relative, their name and address: Brother Edmund Deady, 32 Elsworth St. Worcester
Ever in Prison or Almshouse or supported by charity: No
Whether a Polygamist: No
Whether under contract, express or implied in the United States: No
Condition of Health, Mental and Physical: Good
Deformed or Crippled: No
Not only did older brother Edmund pay for younger brother Alex's ship passage, it also appears he sponsored him for
Naturalization.
Likely my Great-Grandfather also helped his brother find lodging and a job when he arrived in the U.S.
Labels: Deedy